Columbus College of Art and Design
Columbus, OH
January 22 – March 25, 2015
Group Show
Curated By Michael Goodson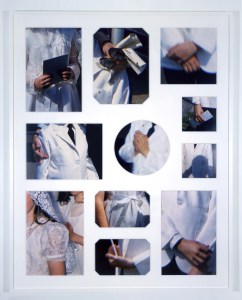 Robert Beck is one of twenty-seven artists in group exhibition 'Sitter', an exploration into the idea of the portrait as it exists in contemporary photography. The convergence of conceptual artists and social documentarians in the exhibition yields work that carefully balances aesthetics, political ideas, and the essence of identity to frame important social issues in a contemporary manner.
The exhibition will include a work by American artist Robert Beck, born in Baltimore, MD, USA. He now lives and works in New York City and far west Texas. The featured work, a collage of 11 chromogenic prints on wood and matte board with fragmented depictions showing scenes from a communion, is titled 'Apart from the Whole (Communion)', 2005. In 2007, to mark a development in his artistic practice, Beck undertook a change in his surname by a single vowel to Robert Buck.
'Sitter' runs from 22 January until 25 March 2015 at Canzani Center Gallery, Columbus College of Art and Design in Ohio.