Learning from "Dynasty"
1986, 8:16 min, color, stereo sound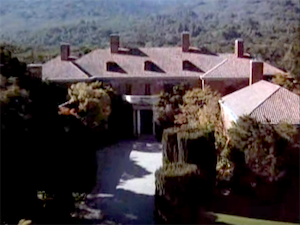 Originating from an installment of The Space Program, the video is titled after the 1972 groundbreaking architectural study that inspired it, "Learning from Las Vegas" by Denise Scott Brown, Steven Izenour and Robert Venturi. Learning from "Dynasty" "reconstructs" buildings that appeared weekly on the popular 1980s primetime soap-opera series "Dynasty". By combining the exterior shots of the shows recurring locations, the work indexes the "po-mo" architecture and filmic patina of the time. While the various establishing shots are rote, save for the jolt of a zoom or pan, the accompanying snippets of thematic music betray the drama of the episodic narratives. The taxonomy of TV facades concludes abruptly with the brute reality of a black-and-white surveillance camera POV from within a building lobby, where an encounter occurs.